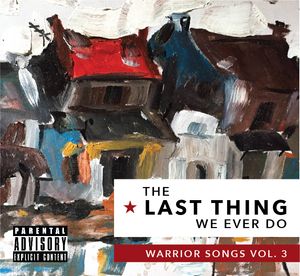 "The Last Thing We Ever Do: Warrior Songs Vol. 3" 
Executive Producer's final report. 
08/31/2021 
Introduction 
From the very first fundraiser held on May 16, 2019 at Linneman's Riverwest Inn to the August 8th 2021 release party held at Turner Hall Ballroom, the creation of this "The Last Thing We Ever Do: Warrior Songs Vol. 3" has been a group effort.  Including the creation, press tour, and release, over 450 individuals took part in creating this groundbreaking CD, and each person played an essential part.  Words cannot adequately express how grateful I am to those who assisted in the creation of this project, but know this.  
WSv3 is free to any and every veteran.  Though we have only just begun, Warrior Songs has already distributed over 700 copies to veterans and organizations that work with veterans.  (Get your copy here.) Every copy that finds its way into the hands of a veteran is an opportunity to change a life.  Perhaps even save a life.  When that happens... when the music reaches that veteran who is lost to the darkness… when the music makes that veteran feel the spark that brings them back…  When the raw truth shared on the CD provides them not only with solidarity in their injury, but also a real path out of the darkness and back towards healing and wholeness…  When that veteran begins their journey they have taken their first step to being fully and completely home.  When that happens, it is because of the combined effort of the people listed below. 
The CD features 14 songs created by professional songwriters from the firsthand testimony of Vietnam era veterans, brought to life by professional studio musicians.  Nineteen Vietnam era veterans gave testimony, transformed into song by 21 songwriters and recorded by 81 studio musicians in 14 different studios across five states in two countries – USA and Vietnam.  A total of 109 artists, including 17 Vietnamese nationals, joined forces to complete the project. 
"The Last Thing We Ever Do: Warrior Songs Vol. 3" officially released August 8th, 2021 with an event at Turner Hall Ballroom, Milwaukee Wisconsin.  The project began on 09/16/2019 when the first song, "Let it Go" was written.  The first official fundraiser took place 05/16/2019 at Linneman's Riverwest Inn, Milwaukee WI.  From the first song to final release the project took 692 days, or 1 year 10 months to complete.  The CD was originally intended to be a double CD with 28 songs, but the Covid-19 pandemic forced us to cut the CD to a single CD.  Many of the cut songs will find homes on future volumes.   Physical copies as well as digital downloads are free of charge for veterans at www.warriorsongs.org.  
The August 8th, 2021 Release party was an amazing success.  
Thank you to table volunteers Patricia Clason of Healing Warriors Hearts, Kim Stuart, Dianne Young, Susan Zenda, Carissa DiPietro, and Dawn Sky Strobel.  Thanks to Welcome table volunteers Mark Flower, Alannah McReavey, and Camilla (Mila) Leffel.  Thank you to the Green Room volunteers Benjamin Singleton and Alexandria Greco and to caterer Karen Gill for her wonderful creations.  Thanks to Jayne Holland, Melissa ???, and Rick Benoit for helping with the Art Auction.  Thanks to Lin Daley for creating the artwork that was auctioned.  Thanks to Support Staff Todd Dennis, Bill Christofferson, and long distance Sarah Dolens-Moon.  Thanks to the stage team: Jason Lipsky of Appleton Rock School, John Dougherty of Welcome Place Productions, Marcella Jones, Marc Solheim and all the fantastic Turner Hall Staff.  Thanks the artists who came from far and wide to perform and attend: Lisa Johnson, Vets on Frets, Jake Froelke, ParThon, Kyle Rightly, Larry Reed w/Frogwater and Kevin Games, Pauline Pisano, Jeff Mitchell, Steve Gunn, The Mambo Surfers, and Watermelon Slim.  Finally, thank you to the following ally organizations who came and tabled:  Healing Warriors Hearts, Center For Veterans Issues, VetsNet, Dryhootch, Feast of Crispian, Milwaukee Veterans For Peace, Vietnam Veterans Against the War, Capt. John D Mason - Veteran Peer Outreach. 
The media tour building up to the release was also a success.  Thanks to Vera Roddy for lodging me in MKE.  Thanks to John Zutz and Ron Arm for escorting our out of town guests.  Thanks to Jim and Marty Linneman of Linneman's Riverwest Inn.  Thanks to Jeff Mitchell, Mambo Surfers, Love, Light and Harmony, Trouvaille, Watermelon Slim and Rich Travi who all joined us at Linneman's.  Thanks to Tim and Connie Friesen of Big Easel Gallery & Bistro.  Thanks to Aaron Baer of The New Moon Café.  Thanks to Mike and Jaxzen Bleck of AirMikeyB. Thanks to Collen Bos of Bos Meadery. Thank you to Bone Holler, Mark Lint's Dry Folk, Matt DeBlass, Chris Wellner, Kyle Rightley, Kris Sheehan, and Lisa Johnson who all joined us at Bos.  Thanks to R&R House – Mental Health of Wisconsin.  Thanks to Yvette Pino of Wisconsin Veterans Museum.  Thanks to Doug Bradley, Vets on Frets, Wisconsin Department of Veterans Affairs Secretary's Mary Kolar and Lisa Johnson for joining us at the Wisconsin Veterans Museum event.  Thank you to Jeff Funk of Funks Pub and to The Madtown Mannish Boys.  The tour helped raise money for, and awareness of, the project. 
There are too many people to thank for the entire CD.  I've included the key participants for each song.  Please see the CD liner notes for full names of every studio musician.  Thank you to Bill Christofferson, John Zutz, and Dan Van Buskirk for sitting on the Vietnam Veterans advisory council.  Thanks to Bill also for help with press and fundraising.  Thanks to Connie Hunter-Baptiste and Marcela Jones for sitting on the diversity advisory council.  Thanks to Dinh Luc & Dihn Tung Lam for the cover art.  Thanks to James Wachtendonk for the remaining artwork.  Thanks to Ngoc Han, whose art didn't make the CD.  Thanks to Offbeat press for creating the graphic arts and to Jake Johnson for mastering the CD.  Thanks to Dr. Ed Tick for writing the CD forward.  
Thanks to John Zutz, Lisa Johnson, Danny Proud, Vets on Frets, and Jake Johnson at Paradyme Studios for creating the song "Conscription".  Thanks to Doug Bradley, Jake Froelke, and Colin Wymore at Coney Pine Recordings for "Lookout Sam".  Thanks to Saji Villoth, Marcela Jones, Mambo Surfers, and John Tanner at Tanner-Monagle studios who helped an Anonymous veteran tell his story of rape on "Face Down".  Thanks to Mark Forman, Jesse and Katie Frewerd, and Kevin Arndt at The Exchange Recording Complex for "Mark's Song".  Thank you to Bill Martin of Veterans and Patriots Performance Group, Kyle Rightley, and Landon Arkens at Blast House Studios for "Seawolf 7-6".  Thanks to Watermelon Slim and Walt Busby of the Bluesberry Café for "Trying My Best to Get Back Home". 
Thanks to Janet Carr who introduced us to Elvis Thao who told the story of Chia Cher Vue with the help of Jeff Hamilton at Hamtone Studios.  Thanks to Dr. Tick through whom I met Janet Carr.   Thanks to Brigette McCoy who introduced me to ParThon who told the story of Calvin Wade on "Welcome to The World" recorded at Lowblack Studio.  Thanks to Steve Gunn, Jeff Mitchell, and Stephen McCabe of Subsoil Studio for creating "Disquieted Mind".  Thanks again to Dr. Tick for connecting us to Steve.  
"Orange Lipstick and Pink Uniform Taxes" recorded at House Of Demeter Productions - thanks to Charon Hribar who introduced me to Pauline Pisano, and BriGette McCoy who introduced us to Diana Danis.   Thanks to Richard "Breezy" Brzeski, Karen Lopez, Isaac Muir, David Seeber, and Kevin Larkin for creating "Never Give Up" recorded at SAACA - Mixed Catalyst Arts & Makers Space.  Thanks to Chuck Theusch of Children's Library International, Son Mach of The United Saigon Orchestra, Yen Ngoc, Nhan Hau, Dieu Linh, Thanh Huyen, Van Anh, Minh Ngoc, Trinh Khanh Le, Jake Johnson for their contribution on "Seeds of Peace"  Thanks to Johnathan Lubner for introducing us to Peter Rassmeson who connected us to Son. 
Thanks to Katie Grace Bell who introduced me to Brenton MacKinnon years ago.  Thanks to Aaron Baer and Paul Wisneski who brought Brenton's truth to life at Cosmic Cow Studios on "Cracks and Patches".  Thanks to Feast of Crispian who introduced us to Larry Reed and Charlie Walton.  Thanks to Providence Baptist Church for allowing us to record and film the song there.  Thanks to John and Susan Nicholson of Frogwater.  
Thank you to the organization and individuals who contributed financially to the CD 
The total cost of creating the CD, including 5,000 printed copies, was $38,921.64.  Warrior Songs raised a total of $42,101.35 to cover the creation of the CD.  $11,996.00 was raised through grants from: The Bloomfield Family Foundation, Vietnam Veterans Against the War – Milwaukee, Veterans Journey Home, Larry Weiss Family Foundation, Herb Kohl Philanthropy, Veterans For Peace Chapter 13 Tucson, Veterans For Peace Chapter 1 Maine, Madison Veterans For Peace, and Veterans & Community of Wellness Works for the Warrior Spirit.  
$26,579.40 was raised by Three hundred and three individual donors. Here is an alphabetical list of those donors (by first name).  Adam Schultz, Aimee Bjorklund, Alyce Downer, Am Hecht, Amanda And Charles Baynton, Amber Smith, Amy Kinast, Amylee Pettis, Andrea Christofferson, Angela Lago, Ann Schremp, Anna Robillard , Annie Salmona, Anthony Torres Jr., Art Heitzer, Art Severance, Barbara Heimsch, Barron Brokiewicz, Benjamin Doran, Beryl Kunitsky, Beth Bachus, Beth Kille, Bill Carey, Bill Christofferson, Bill Schwulst, Bob Knudsen, Bob Phillips , Bonnie Caracciolo, Bonnie Nasca, Brad Vincent, Brenda Joy, Brian Pfitzer, Brian Sulla, Brigette Mccoy, Brittany Schurtz, Bruce O'Shire, Ca Bushnell, Carl Zutz, Carolyn Pine Stern, Cassandra Facciponti, Catey Doyle, Cath Tease, Charles Lee, Charles R Pruitt, Charlie Walton, Christa Fisher, Christy Jackson, Chuck Foxx, Chuck Marten, Cindy Bullion, Clara Acker, Clare Corcoran, Connie Steed, Courtney Waters, and Craig Werner. 
Dale Throneberry, Danae Steele, Danyelle Shaltis, Darrell D Tickler Reed, Dave Bartlett, David Cross, David Heller, David Larsen, David Mccall, David Ripp, Debbie Maass, Debra Jircik, Dennis Grzezinski, Diana Danis, Diane Beaudoin, Dianna Matz, Dick Linhart, Dixie Thompson, Donald Miller, Donald Moore, Donna Fullerton, Doug Bradley, Doug Rawlings, Drew Mueske, Edgar Gonzalez-Baeza, Edward Aune, Edward Tick, Eileen Carlton, Elisa Farmilant, Elizabeth Ann Winslow Larson, Elizabeth Skrabonja, Ellen Barksdale Jacks, Emily Rabe, Enda Breadon, Eric Weiss, Evana Howard, Evon Mitchell, Frank Egger, Frederick Marx, Gary Anderson, Gary May, Gary Michiel Montiel, George Guyant, Gevon Monique, Gina Gaudio, Gordon Fowler, Gwen Ragland, Harvey Taylor, Healing Warrior Hearts/Patricia Clason, Helen Clifton, Hilda J Richey, Isaac Semrow, James Hackbarth, James Rowen, James Wachtendonk, Jamie Peterson, Jan Thal, Jayne Holland, Jeanette Petts, Jef Hall, Jenna Nilson, Jennel Veronica, Jennifer Garner, Jennifer Regan-Mitchell, Jennifire Arndt, Jeremy Thompson, Jesse Saywell, Jessica Davis, Jessica Davis, Jessica Love Moore, Jim Naughton, Jim Wohlgemuth, Joanna Sweatt, Joanne Potter, Joe F Campbell, Joe Slyzelia, Johanna Buwalda, John B Yang, John Dunker, John Fournelle, John Kaye, John Lycardi, Joleen Trustem, Jon Robert Christensen, Judy Miner, and Julie Vang. 
Kara Naramore, Karen Lopez, Karen Zutz Renall, Karin Borgh & Bill Christofferson, Karl Rohlich, Kate Briquelet, Kathleen Kavaney Zuleger , Katie Grace Bell, Katie Kelch, Katinka Hooijer, Kay Springstroh, Kaye Baus, Kelly Potter, Ken Keeley, Ken Parejko , Ken Plant, Ken Tribolini, Kindra Lynn, Kirk And Lori Brown, Kristin Hunt, Larri Jacquart, Laurens Wildeboer, Lauri Ann Lumby, Lawrence Markworth, Lin Daley, Linda Daley, Linda Susan Spice , Lisa Johnson, Lori Pierquet, Lou Rothenstein, Lucia Dorneden, Lynn S Adelman, Marcella Jones, Marcia Koenecke Signorile, Marjorie Nixon, Mark Ellis, Mark Foreman, Mark Te Tai, Mark Tindle, Marshal Mckitrick, Martin Schreiber, Marty Stahl, Mary Askin, Mary Bennett, Mary Good, Mary Kolar, Mary Sambo, Mary Tenwinkle, Mathew Hoth, Matthew J. Scholtes, Maureen Rosette, Mbfdreams, Melissa Doud, Melissa Pepper, Melissa Rhine, Michael Bleck, Michael Nauert, Michal Dawson, Michelle Disher, Michelle Mcgrorty, Mike Rausch, Minnie Harmon, and Molly K. Mitchell. 
Nancy Smith-Watson, New Territory, Nickolas Roedel, Norma Bufford Joiner, Oct Mitchell, Ove Frederiksen, Patricia Clason, Patricia J Menzeis, Patrick Beaumont, Patrick Curley, Patrick J. Goggin, Patrick Ryan, Paul Appell, Paul Ehlers , Paul Moriarity, Paul Shenep, Paul Szilvagyi, Paul Wisneski, Paula Selby, Penelope Dexenjaeger, Penney Johns, Peter Mcavoy, Peter Rasmussen, Ralph Kamps, Ray Silbersdorf, Ray Silbersdorf, Richard Brzeski, Rick Tvedt , Rita Bemis, Robert Hanson, Robert J. Conaway, Robert Lieber, Robin Lutz, Robin Spencer, Ron Arm, Roy Dolens, Sally Mckinney, Sandra Wicker, Sara Peck, Sarah Backus, Sarah Wolf, Sasha O'Donnell, Scott Cop, Scott Gelzer, Seth Reid, Shelly Nichols, Skip Jones, Society Of Wood Science & Technology, Stacey Kalies, Stephanie Youngs, Stephen Fournier, Stephen Piotrowski, Steve Berntson, Steve Books, Steve Citty, Steve Good, Steve Gunn, Steve Smith, Steven & Beverly Brentson, Steven Monhollen, Steven Queener, Sue Ruggles, Susan Blaustein, Susan Cox, Susan Dixon, Susan Hammond, Susan Proctor, Susan Riesch, Susan Rodgers Hammond, Susan Ruggles, Susanna Baker, Suzanne C Gordon, Tamala Karch, Tamara Mitchell, Tania Verhalen, Teresa Vilmain, Terry Talbot, Theresa Botts, Tina Manzo, Toby Hollander, Tom Condor, Tom Vanderpool, Tom Williams, Tricia Goehe, Ty Arch, Venesha Harden, Vila Giri, Walter Kelly, Warren Shipman, Wesley Franklin Jr, William P Martin, William Wilder, Yee Vue, and Yvette Hodgkinson. 
WSv3 Media 
Warrior Songs and contributing artists created several music videos and content from the CD. Below is the most up-to-date list of this media. 
View the song sampler/official announcement video here 
https://youtu.be/_9PE7RtJNFo 
View the music video for "Never Give Up" here 
https://youtu.be/TGFHZZc__ug 
View the music video for "Welcome to The World" here 
https://youtu.be/wJfPPyLFwXo 
View the music video for "Seeds of Peace" here 
https://youtu.be/PjhFMln_TYs 
View the original Vietnam first draft video for "Seeds of Peace" here 
https://youtu.be/AklhLpXxhVg 
View the music video for "Let it Go" here 
https://youtu.be/cQQvtEkEktY 
View behind the scenes interviews from "Let it Go" here 
https://youtu.be/dYhWgY_sW_k 
View the original fundraising video here 
https://youtu.be/fVikQ7EA6Pw 
View a photo album of the release party here 
https://warriorsongs.org/galleries/879868/turner-hall-release-party-photos 
View a photo album of session photos here 
https://warriorsongs.org/galleries/879867/recording-session-photos 
CD release party flyer here 
https://warriorsongs.org/files/1126140/warrior-songs-wsv3-poster-8-5x11-print-ready.pdf 
WSv3 in the Press 
Below is the most up-to-date list of this media. The CD, tour, and release event generated several press articles and interviews.  Below is the most up-to-date list of this press. 
2021-08-23 (TV Feature) – Positively Milwaukee –TMJ4 Milwaukee "'Warrior Songs' gives veterans creative ways to cope with PTSD" by Carole Meekins 
https://www.tmj4.com/news/positively-milwaukee/warrior-songs-gives-veterans-creative-ways-to-cope-with-ptsd 
2021-08-22 (TV Feature) - CBS58 WDJT Milwaukee – "I had found so much healing from transforming my trauma into songs': Milwaukee veterans deal with war trauma in new album" By Rose Schmidt Posted https://www.cbs58.com/news/milwaukee-veterans-deal-with-war-trauma-in-new-album 
2021-08-06 (Article) - Milwaukee Journal Sentinel - "Veterans record music, perform to help with the post-war healing process. See them live Sunday night." by Grace McDermott https://www.jsonline.com/story/news/2021/08/06/wisconsin-veterans-songs-and-stories-performed-sunday/5454515001 
2021-08-05 (Radio Interview) 105.5 Triple M – "Healing Vets Through Music" by Kitty Dunn https://www.audacy.com/1055triplem/latest/healing-vets-trauma-through-music 
2021-08-02 (Article) The Wrath Bearing Tree – "Larry Abbott on Warrior Songs, Vol. Three: "The Last Thing We Ever Do: Vietnam Veterans Speak Truth" 
https://www.wrath-bearingtree.com/2021/08/larry-abbott-on-warrior-songs-vol-three-the-last-thing-we-ever-do-vietnam-veterans-speak-truth/ 
2021-08-02 (Radio Interview) Devil Radio – The Earl Ingram Show https://www.devilradio927.com/podcast/8-2-21-the-earl-ingram 
2021-07-27 (Article) – Milwaukee Independent - "LAST THING WE EVER DO: MUSICIANS EXPRESS THE VIETNAM WAR EXPERIENCE OF MILWAUKEE VETERANS IN NEW ALBUM" by Staff https://www.milwaukeeindependent.com/articles/last-thing-ever-musicians-express-vietnam-war-experience-milwaukee-veterans-new-album/ 
2021-07-25 (Article) – Wisconsin State Journal – "Vietnam vets, songwriters team up for meaningful CD "by Gayle Worland 
https://madison.com/wsj/entertainment/music/vietnam-vets-songwriters-team-up-for-meaningful-cd/article_b9720034-8abc-5e61-98f9-24b880e59ef9.html 
2021-07-25 (Article) "Musicians and veterans join forces for catharsis on 'Warrior Songs' album" by Cameron Cieszki 
https://madison.com/ct/entertainment/music/musicians-and-veterans-join-forces-for-catharsis-on-warrior-songs-album/article_4b170804-7150-5699-9a2a-724bf9529f2b.html 
2021-06-18 (Article) NewsTrail.Com – "The Last Thing We Ever Do: Warrior Songs Vol. 3" by Francisca Sequeira 
https://www.newstrail.com/the-last-thing-we-ever-do-warrior-songs-vol-3/ 
--